Lowbed Service
Need your heavy equipment moved? Let our full service lowbed team move your overweight and oversized equipment for your next job. We specialize in moves from Maine to Maryland, and we handle all the loading, unloading and permits for your equipment moves. Our goal is to provide hassle free customer service, letting our customers manage their projects and keep them working.
Portable Screening & Portable Crushing
Developing a site that has a lot of stone to be crushed? Recycling asphalt and concrete debris? Need to rent a machine to screen materials onsite? Let our portable screening and crushing services handle your next project. We use our decades of knowledge in materials manufacturing to make our customers the best onsite materials for their construction projects. Call our sales team to schedule an appointment on screening or crushing your oversized materials.
Heavy Equipment Rental
Herb Holden Trucking is a non-union company that has decades of knowledge in the earth moving business. We have some of the best professional operators in the business that can properly grade your site, load your trucks, or even excavate your jobsite. Call us today for a quote on the following equipment rentals: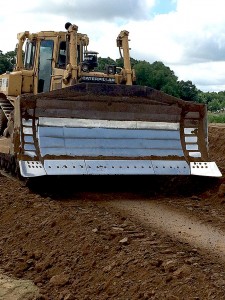 DOZERS
Cat D8 Dozer
Cat D6 Dozer
John Deere 450 Dozer
LOADERS
980C Loaders
980G Loaders
950F Loader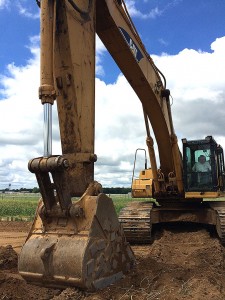 EXCAVATORS
Cat 345 Excavator
Cat 330 Excavator
SKID STEERS
BACKHOE
Herb Holden Trucking has been building residential communities and neighborhoods in Connecticut and Western Massachusetts for over 50 years. We service contractors and homeowners alike for construction projects that range from driveway installations and septic systems to onsite portable crushing and sub-division development.
We specialize in:
• Septic System Installations
• Driveway Installations
• Roadway Installations
• Digging and Backfilling Foundations
• Sewer and Water Line Installations
• Backfilling and Grading
• Sub-Division Developments
• Commercial Developments
Some of our past projects include:
Residential Community Developments
Hunt Glen Apartment Complex- Granby, CT
Infrastructure installation for 70 unit complex
Aspen Woods Apartment Complex- Manchester, CT
Infrastructure installation for 400 unit complex
Aspen Highlands Apartment Complex- Manchester, CT
Infrastructure installation for 100 unit Complex
Walden Woods Condominium Project- Windsor, CT
Infrastructure installation for 180 unit complex
Industrial Development
Cromtek Industrial Park- Cromwell, CT
Installation of utility, waterline, and sewer systems. Parking lot install
Pease Farm Rd- Ellington, CT
Installation of new road and drainage systems
State Agency
CT Water Company- Various, CT
Waterline installations
Hartford Landfill, Hartford, CT
Landfill construction and capping
Commercial Development
Parking Lot Expansion- East Windsor, CT
50 acre site with miles of drainage, utility, and waterline installations
Lego Systems Complex Parking Lot Expansion- Enfield, CT
Earth excavation, infrastructure installation
Willington Senior Center- Willington, CT
Sub Surface Sewage Disposal System, Infrastructure Development
Excavation/Reconstruction/Demolition
Sonoma Woods- Middletown, CT
60K ton Crushing, excavation, site infrastructure
Silver Sands State Park- Milford, CT
Demolition/Crushing of Sewage Treatment Plant, site reconstruction
Showcase Cinemas- Manchester, CT
Site reconstruction and road development with utility installation
Dempsey Rd- East Windsor, CT
Re-furbish grade and drainage systems